Oats? Check.
Fiber? Check.
Fruit? Check.
Chocolate? Check.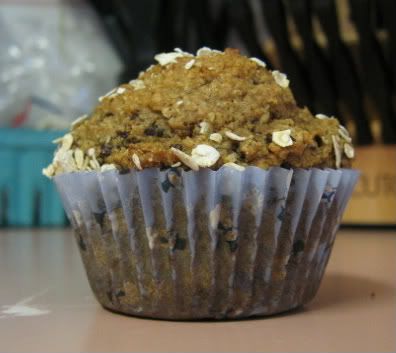 Yep, these muffins have it all. They're really versatile and way too moist and delicious to be an Oat Bran Muffin. This recipe evolved from something I stole off the internet and then made vegan and then... added more stuff to. These actually yield a weird number of muffins... like 17, which works out to be a good thing when you share "half a batch" with your friend, and still have 11 left at home.
Banana Chocolate Chip Oat Bran Muffins
1/2 cup brown sugar
1 1/2 cups oat bran
1 1/2 cups spelt flour (or whole wheat pastry flour, or half whole wheat half all purpose. whatever you've got)
2 tsp baking powder
2 tsp baking soda
1/2 tsp salt
1 mashed ripe banana
1 cup unsweetened applesauce
1 tsp cinnamon
4 tbsp vegetable oil
1/2 cup semi-sweet chocolate chips
1. Preheat the oven to 400 degrees. Line one and a half muffin tins with paper liners.
2. Blend together the brown sugar, oat bran, flour, baking powder, baking soda, salt, and cinnamon.
3. Stir in banana, applesauce, and oil until just mixed.
4. Fold in the chocolate chips. The batter will be SERIOUSLY thick!!
5. Spoon the batter into the prepared muffin tins (a cookie scoop works great here!), sprinkle decoratively with oats, if desired, and let stand for about 10 minutes, then bake for 15 minutes or until golden brown.