This is stolen evolving recipes as it's best. I stole the base recipe from this bread from the
Everyday Dish TV
blog, where, at the time, it was Oatmeal Toasting and Sandwich Bread... which was stolen an adapted from a
King Arthur's Flour recipe
. The "original" Everyday Dish recipe is also great, and I tried that one first, then went "oooo cinnamon raisin" and here we are!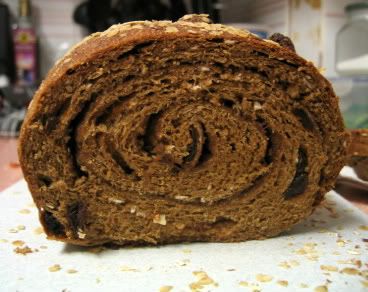 Ever Evolving Cinnamon Raisin Swirl Bread
1 1/2 cup bread flour
1 1/2 cup whole wheat bread flour
1/2 cup quick oats
1/2 cup old fashioned oats
2 tbsp canola oil
1 1/2 teaspoons salt
3 tablespoons blackstrap molasses
2 1/4 tsp (1 packet) yeast dissolved in 1 c warm vanilla rice milk
1/4 cup pureed silken tofu
~1/2 - 3/4 c raisins
2 tbsp margarine, melted
1/2 c cinnamon sugar
1. In a large bowl (or the bowl of your Stand Mixer, as in my case), stir together all the dry ingredients.
2. "Proof" the yeast by dissolving it in the warm milk and then let it sit for about 5-10 minutes. The yeast should get foamy/frothy, that means it's good to go!
3. Add the yeast mixture, oil, molasses, tofu, and raisins to the flour mixture and knead for 5 minutes by machine or 10 minutes by hand until the dough is smooth. Form it into a ball and place in a lightly oiled bowl, turning once to coat the dough, and lightly cover with a clean kitchen towel and place in a warm spot to rise for an hour.
4. Punch down the dough and roll it out on a a lightly floured surface so it is the length of your bread pan and about a foot to a foot and a half long. Brush the dough with the melted margarine and sprinkle generously with cinnamon sugar. Roll up your dough tightly, tuck the ends under, if needed, and place in a greased bread pan. Sprinkle the top with oats for dramatic effect, if desired. Cover again, and let it rise another hour until it's risen about an inch out the top of the bread pan.
5. Preheat the oven to 350 degrees and bake the bread for 35-40 minutes until the center has a temperature of 190 degrees -- or it's nice and golden brown and sounds hollow when knocked upon.