I think everyone remembers making these cookies as a kid. A simple peanut butter cookie that you press down with a fork to make a crosshatch pattern. With these particular cookies, I used a potato masher to get a great big grid! Use any sort of kitchen object with an interesting texture to create patterns in the top of your peanut butter cookies. These are best eaten straight out of the oven with a nice cold glass of rice milk. If they've been sitting around a few days, microwave them for about 10 seconds to bring back that fresh out of the oven flavor. This is a morphed Betty Crocker recipe gone vegan!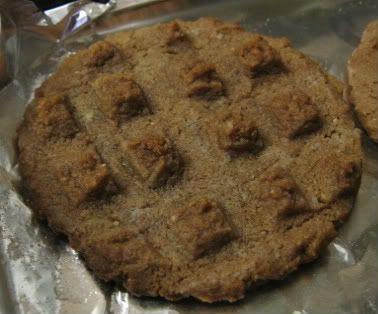 Peanut Butter Cookies
1/2 cup white sugar
1/2 cup brown sugar
1/2 cup peanut butter
1/2 cup margarine, softened (I use earth balance)
1/4 cup pureed silken tofu
1 tbsp blackstrap molasses
1 1/4 cups all purpose flour
3/4 tsp baking soda
1/2 tsp baking powder
1/4 tsp salt
1. Preheat oven to 375 degrees.
2. Cream together the sugars, peanut butter and margarine. Mix in tofu and molasses until smooth.
3. Add the dry ingredients and stir until thoroughly incorporated.
4. Roll dough into walnut sized balls and place about 3 inches apart on your cookie sheets. Then flatten using a fork dipped in flour, pressing the top of the cooking down to make a cross-hatch pattern. (Or use your potato masher! Or any other object as recommended above)
5. Bake for 9-10 minutes or until golden brown. Allow to cool for a few minutes before removing from cookie sheet.
* Tip! Hate cleaning cookie sheets? Line them with aluminum foil! Hate wasting foil? Save the cookie-stained foil to line your cookie sheet next time your baking a pie to avoid a sticky mess in the bottom of your oven. Still think its a waste? Recycle it! It's aluminum.
* Other Note! What the heck happened to that first cookie?! I used PB&Co Dark Chocolate Peanut Butter! It makes a darker brown cookie, but not a whole lot of flavor difference. Ah well, had to try.